If you really need a professional upwork overview sample for wordpress developer, this article will fulfill your thrust. I am going to provide not only the overview sample but also some important things that you should remember while writing a wordpress designer profile overview. Let's see: WordPress Developer Cover Letter Sample.
Nowadays, working as a professional freelancer on Upwork has become very popular. While there are several types of freelancing jobs available in the marketplace, WordPress Designing & Developing is one of the most popular and demanding one.
Here you will get the best Upwork Overview Sample for WordPress Designer & Developer to impress your potential clients. But do you know what does a client requires from his hired freelancer?
Client Demands
A client's requirements are easy yet difficult as their demands include –
Quality Work
Creativity
Uniqueness
Punctuality
Problem solving methods
Honesty
Transparency
Experience
Value of money
Now, that you know your client demands, let's focus on creating your Upwork Profile Overview as a WordPress Designer & Developer.
WordPress Developer Profile Overview Sample of Upwork
Hello, my name is (write down your name here). I have been working as a professional CSS, Angular and WordPress developer for 7 long years now. I also have acquired fame and popularity as a Front-end Developer
While there are thousands of freelance Web and WordPress developers available in the market, I consider myself as the best as in my professional career I never had one unsatisfied client.
I have a Bachelor's degree on Computer Science Engineering from The University of (your university name, if not then pass.)
I have great expertise in creating web applications using a variety of modern technologies. I am also very adequate in maintaining websites and mobile apps as I am an expert in using WordPress, WooCommerce, PHP and HTML/CSS. I always focus on producing high quality and module-oriented SEO-friendly codes.
As I have my own hosting,I would be able to show you the work progress anytime you want.
My other professional skills include –
Use of PSD2HTML
Use of JQuery
Web Designing talents
Problem-solving abilities
Quick response
UX and UI designing
Monitoring and supervising
I believe in hard work and honesty. I am always interested in making long term professional relationships with my clients to ensure that every project becomes successful. So, if you hire me, I can assure you that you will not regret your decision.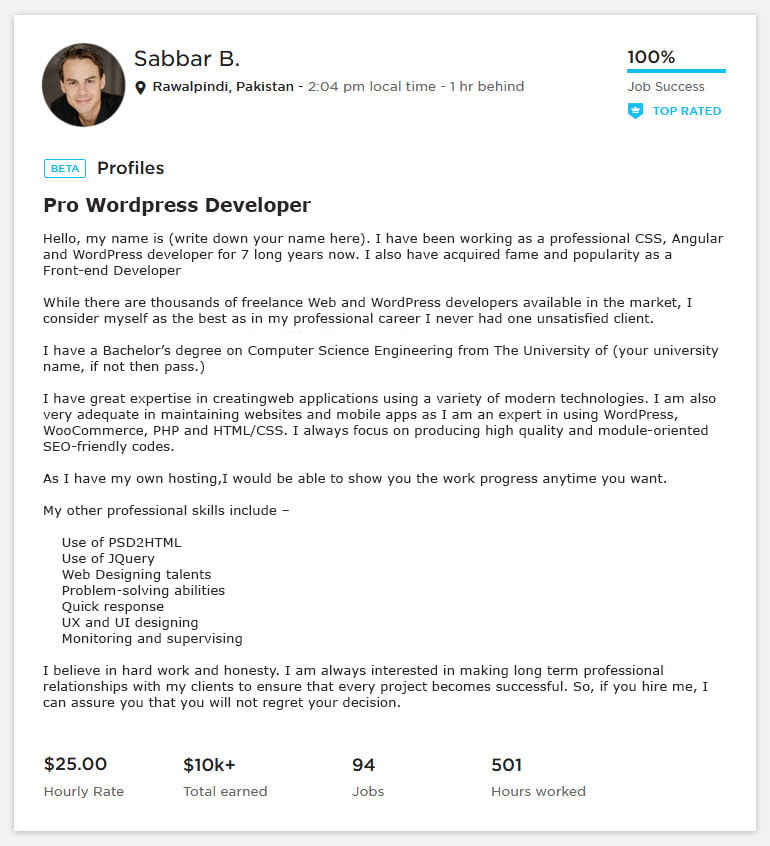 Important Tips
Your profile should be straight on point and short. Though most of the clients prefer experienced ones, if you have quality then experience doesn't matter that much. That's why it is really important to mention your expertise and qualifications as a WordPress Developer.
DO NOT PROVIDE FAKE INFORMATION as your client is most likely to check your claims before hiring you. Check out this sample profile overview to write your own profile description.
Summary
This sample profile overview works as a guide to make sure that you write the best profile overview on your own. Do not copy and paste this one as your main profile description as this one is a sample template. Good luck!