Writing is a novel profession. If you want to enter into this profession, you have to first find out the source of the job. Today I am going to introduce two types of job sources. One is an organizational platform and another one is a freelancing platform.
Also, if you want to be a professional article writer, I will recommend you to use our Free tools, Plagiarism Checker and Article Rewriter to improve your writing and proofreading skills.
Upwork is one of the best freelancing platforms in the world. It has taken freelancing to the professional level. Because of Upwork, freelancing is not for amateurs anymore. Masterminds with a professional approach are ruling the freelance market in modern days. Let's see: Article Writer Profile Overview Sample.
That is why, if you want to impress your potential client with your cover letter, you should always consider writing the best one. Mediocre cover letters are not reliable anymore on Upwork, especially if you are applying for an Article Writer/ Content Writer job.
Have you written thousands of cover letters but failed to impress a client? Are you sitting idle though you have great writing skills? Where was the lacking in your cover letter? Is there any professional tip that you forgot? Or simply, are you tired of copying other's cover letters?
If that's the case with you too, you have come to the right place. Here we will provide you the best sample cover letter for Article Writer/Content Writer so that you can write your own persuading and intellectual cover letter. Besides, we will also give you other information and tips for excelling in professional Article Writing jobs.
Daily Duties to Fulfill as an Article Writer:
Article Writing is not only about writing and submitting writings to your boss anymore. It has earned a huge highlight among freelancers because of its freedom of writing, reputation, and good money.
Because of this, clients on Upwork always expect his/her clients to be active and skilled. Honesty and Punctuality is the key to success here. Any work of plagiarism is completely prohibited here as creativity is one of the basic qualities of an Article Writer.
There are also some fundamental duties of a freelancing Article Writers which include –
Receiving the list of article topics and directions from the client.
Searching for the current and past references of the subject topic.
Searching the web for related information and data.
Gathering information and content material on the subject topic.
Planning and preparing the overall format of the article with care and creativity.
Searching for the keywords.
Organizing the collected information and writing the article.
Submitting completed articles to the client.
Uploading Articles Online.
#01. Article Writer Cover Letter for Upwork & Freelancer
Dear Hiring Manager,
Hello there. I am (Write Down Your Name Here) and I am from (Write Down Your Country Name). I would like to announce my candidacy for the Article Writer post in your company which was posted minutes ago on Upwork.
As soon as I looked at the post, without wasting any time, I thoroughly read your job posting and after understanding every single detail, I took no time to apply for the job. I believe that I am the best candidate for your job as you seek a qualified and experienced article writer who can join your team of experts and make your project successful.
I am this much confident because I have a huge writing experience of more than 6 years now and I have shown my versatility by writing quantity articles on various topics. I am very much aware of the duties that I will have to fulfill as an active and honest employee of your multinational company.
I also have an extraordinary ability to write instantly on almost any topic. In my previous projects, I have written articles on many contradictory subject matters as medieval history, archaeology, wildlife, entertainment, sociology, world literature, hair care products, product reviewing, computers, etc. But most importantly, I not only write the article but also make sure that it's on point and reader-friendly which is very important for your project.
I depend on my perfect hand at MS tools such as WORD, EXCEL, PowerPoint, and tremendous search traits at the web platform for creating a 100% client satisfaction merger. I also have very high-speed typing and reading capabilities.
My educational background also has helped me to excel in this section. I have a Master's Degree in Arts with English literature as a graduation subject from the University of ……… in the year of 2016. (Write your own university and graduation year here).
I can assure you that if you hire me, I will work more than 60 hours a week to make your project successful in a short period of time.
I hope to hear from you soon. You can contact me via Email or Skype as I'm always online.
Thank you.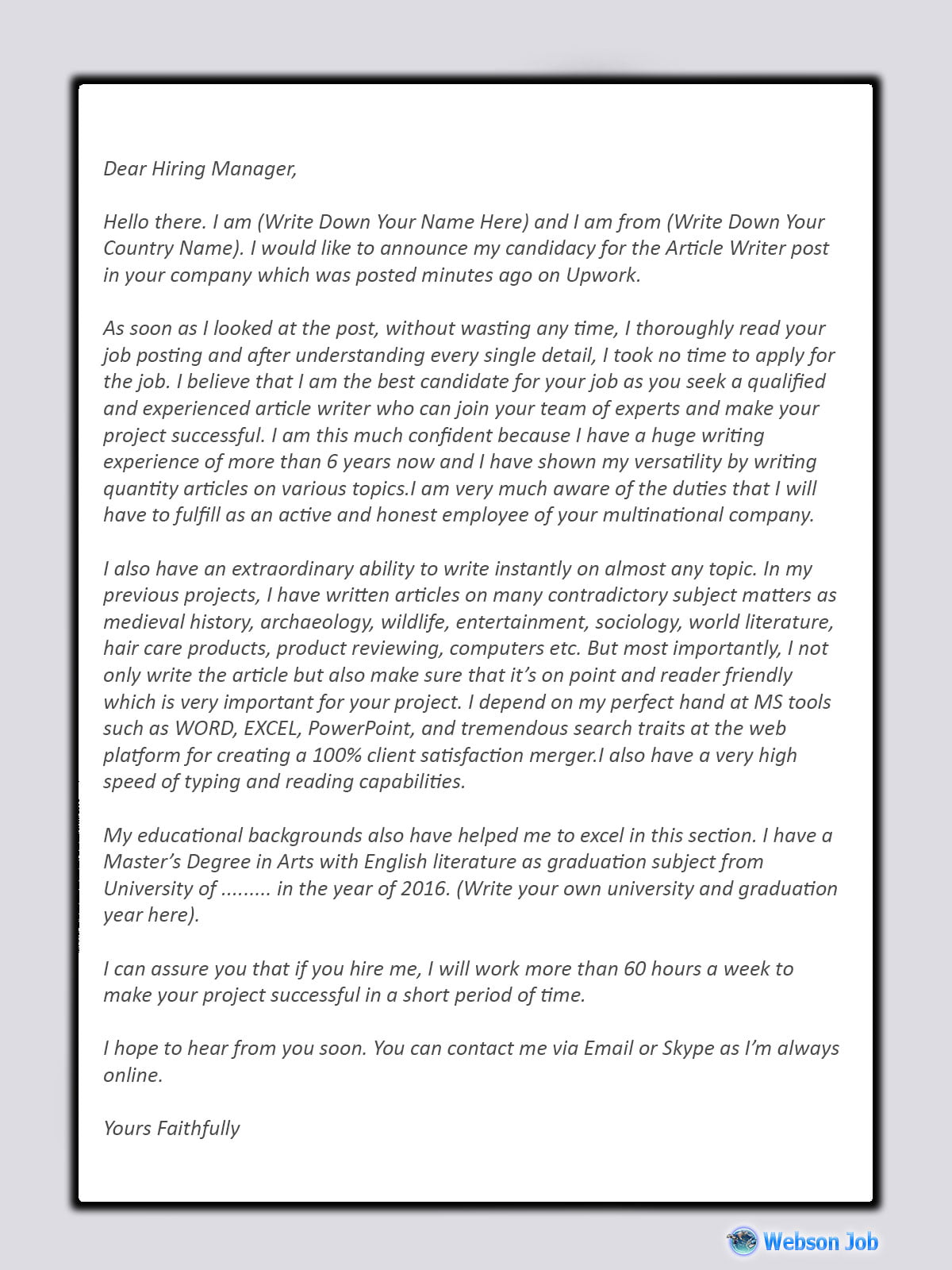 Tips for Writing a Killer Cover Letter for Article Writer:
If you have read the sample cover letter above, you might've noticed the tricks already. Still, let's point out the essential tips again-
Greet in a Professional Approach: Dear Hiring Manager/ Dear Potential Client etc.
Do not attempt to write the cover letter without reading the job title and job description thoroughly.
Make your client understand that you can perform according to his job description easily.
Hit straight on the point without shedding extra words.
Mention your educational achievements and past experience.
Do not bore your client with a flood of promises.
Your Woking Hours Per Week
Your preferable contacting options
Formal goodbye.
#02. Article Writer Cover Letter for Organization
In this case, you must follow some traditional rules and format for your cover letter. Generally, a small, simple but effective cover letter is required in such a phase. So, you must make it brief and go with only the required information just as your client demand like the format below of an organizational jobs' cover letter:
Your Name:
Your Address:
Your Email:
Your Phone:
Employer's Name:
Employer's Address:
Date: 01-01-2022
Dear [Client Name]
1st Para: The job name you are applying for, job source, your interest, etc
2nd Para: Your skills, work experiences, education, and success summary
3rd Para: Your goal in this project, your guarantee, honesty, work process and time schedule
4th Para: Thanks the client, communication Medias, ready to work
Yours Sincerely
[Your Name]