Data entry cover letter sample for upwork has become a hot cake because it is one of the most demanding jobs in freelancing world right now. Everyday more than 1 million data entry jobs are being posted by various clients all over the world in freelancing marketplaces, local job markets, and international job markets. Let's see: Data Entry Profile Overview Sample.
Upwork cover letter for data entry freelancers plays the vital role to win a job because hundreds of freelancers bid against a single job posting. So, you must have to be a very skilled data entry operator and describe your expertise in your proposal letter.
Let's see some data entry proposal samples for writing a perfect upwork cover letter for data entry freelancers.
How to Describe your Proposal for Data Entry?
When you are writing a proposal letter you need to concern always with one thing that the client will judge you by the cover letter. Which means the chance of getting the job is totally depends on the cover letter you post to the clients. As a fact you need to write a cover letter which can impress the client so that you can get the job. For this you need to follow the tips given below –
01. Reading Full Job Description (A-Z)
You need to do is reading the whole job posting description. Because sometimes the clients puts some information in the writing which you need to write in the cover letter also. If you fail to fill up those requirements at the first stage no doubt the client won't read your letter.
02. Prove your Reliability
You need to make your client understand that you are a data entry expert and you know all the basics of data entry. So, that the client can understand well working with you won't be pathetic as now most freelancers don't know the work properly.
03. Time Schedule
Time is a very important factor here. In the cover letter you should input your time schedule for the job. How long can you stay online? When the clients can get you. Sometimes if you have client from America then you will have to follow schedules by his time. So, you need to make sure that you can stay online more than 7-8 hours a day.
04. Show your Experiences
You need to share some experiences you have in this sectors of working. If you have any related work experience then it's good to mention those skills in the cover letter. Your experience can impress the clients to get the job.
05. Stick to Words
The last thing you need to be bold with your words. Suppose you shouldn't miss your work submission date. It can effect on your job performance. So, be sure before you say something to the client.
01. Data Entry Cover Letter Sample for Upwork
Dear Hiring Manager,
Hope you are fine and happy with your life.
Before I start my letter I want to thank you for posting the job. In your job posting you are looking for a Data entry expert who knows every basic of data entry works. The job made me happy as because the skills required in the job matches with me properly. Nowadays there's bunch of freelancers available who ensure you to work properly but they don't keep their promises. Most people don't even know the work strategy properly. By reading your job description what I have come to understand that you want someone who can complete the task faster and also with perfection.
I have all the required skills that you posted in the description. As being a skilled data entry employee I would like to offer myself as a candidate for the job. It's been almost 6 years I'm working with data entry, data importing, data exporting. In these 6 years I have worked with lots of people and companies which has made me a skilled and experienced data entry worker. My typing speed has also proven satisfactory to all my old clients. And I'm also okay with your time schedule so the time can't do any harm in our work.
For knowing more about my skills you are requested to visit my profile and read the satisfactory posts that are posted by my previous clients. Your job made me so curious that I just can't wait to have the job and complete it quickly and properly. And I can assure that I'm the only data entry worker who can make you pleased by the work. So, all I want you to give me the opportunity to prove myself for the work.
My resume and references are attached for your review. I'm providing you my mail and skype to connect with me. I can assure you that I'll be online for more than 60 hours in a week. And I'm willing to start your job as soon as you let me do the work.
Sincerely,
(___your name_____)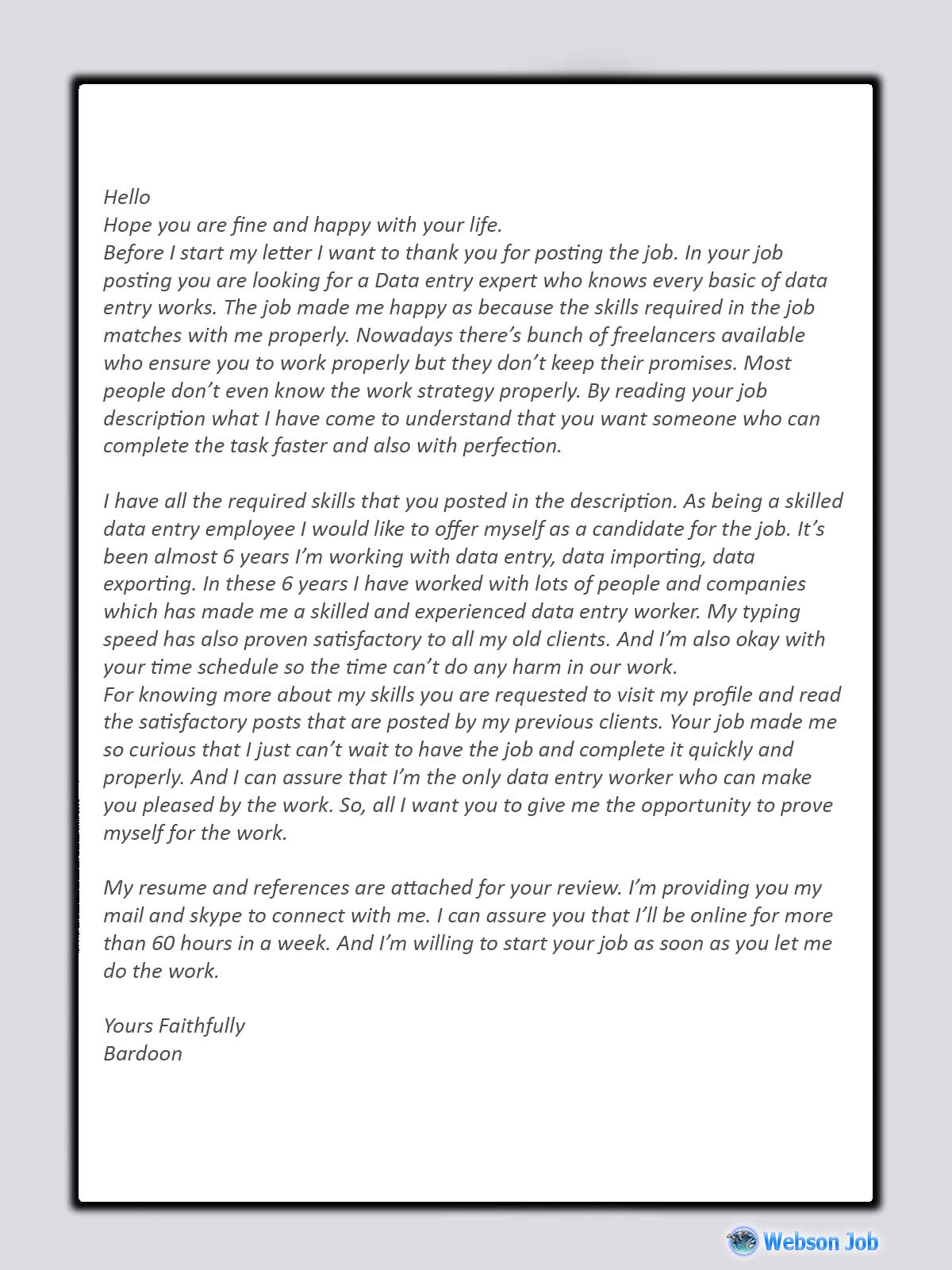 02. Data Entry Cover Letter Sample for Organization
In this case you must follow some traditional rules and format for your Data Entry Cover Letter. So, you must make it brief and go with only the required information your client demand like the format below of an organizational jobs' cover letter:
Your Name:
Mailing Address:
Your Email:
Your Phone:
Employer's Name:
Employer's Address:
Date: DD-MM-YYYY
Dear [Client Name]
1st Para: The job name you are applying for, job source, your interest, etc
2nd Para: Your skills, work experiences, education, and success summary
3rd Para: Your goal in this project, your guarantee, honesty, work process and time schedule
4th Para: Thanks the client, communication Medias, ready to work
Yours Sincerely
[Your Name]
That's it! If you are willing to be a freelancer and don't know how to write a cover letter than follow the tips written above. That's enough to make you understand how to write a cover letter.