Are you a WordPress designer and developer? If you are looking for a brilliant & breathtaking cover letter for your WordPress Development, you are here is absolutely the right place as I am going to provide a number of professional cover letter samples for a WordPress developer. Let's see: WordPress Developer Profile Overview Sample.
It could be used in Upwork, freelancer, and any other freelancing marketplaces. If you still could not decide to go for any particular freelancing marketing place, this article is for you: Upwork vs Freelancer, which one is better?
Nowadays a standard cover letter is all for your purpose as it represents your features to your client. So, it is very necessary to make your cover letter most presentable maintaining all the formalities and providing all the important information. If you want to Download all Categories of Cover Letter, please follow the link.
In this modern era, many people deal with different kinds of freelancing jobs. WordPress is one of them. And the surprising thing is that there are many job seekers who apply for WordPress without even knowing what WordPress actually is and what it demands. In fact, even knowing properly about WordPress it is really that not easy to write a proper and killer cover letter on Upwork. If you are still confused to work in Upwork, this article is for you: Can you make a living on Upwork?
So, it is very important to know what WordPress is. Fundamentally, it's an online, open-source website manufacturing tool written in PHP. There is hardly any famous business today without using WordPress for their publicity on World Wide Web. WordPress is the way to introduce your works to general people. It's most likely the easiest and most influential blogging and website content management system or currently known as CMS. Thousands of different types of companies such as famous blog sites, news outlets, music sites, Fortune 500 companies, and celebrities are using WordPress for their own reason. In a word they just can't go without it. If you do not know How to Write a Cover Letter, please follow the link.
Now, if you feel like making your chance by doing WordPress jobs, make sure you know how to accomplish these things fruitfully ahead of submitting a cover letter on Upwork.
Here you go with some samples and directions to write a killer cover letter.
WordPress Cover Letter for Upwork & Freelancer
Hello
Let's get to the point. I came to know that you need a WordPress eCommerce website with an awesome front-end design and 100% secure background calculation. According to your description, you need the job done very quickly with an affordable budget. Also, you are not going to use your card to buy any plugins or wp themes.
Your requirements are fully clear to me and I am applying only because I meet all the requirements that you are looking for. I have been working as a WordPress developer and designer for more than ten years and I know all the ins and outs of WordPress development and customization.
The ecommerce site should be 100% secure that will be my first guarantee service in this project. Moreover, I will be available for you for any kind of future edits and customizations. Sometimes my five years back clients search for me till now only because of my service.
I am mostly in the love with communication. I like to be in touch with my clients 24/7 so that they can catch me any time when they need me. I am easy to use any kind of mobile or pc applications to be connected with you.
I am looking for the clear requirements docs of your site so that I can start working immediately. If you need to discuss with me for any kind of suggestions or information, please knock me anytime. I am looking forward to hearing from you very soon.
Yours
Devid Marthin
You may interested in: 17 Cover Letter Mistakes [Resolved]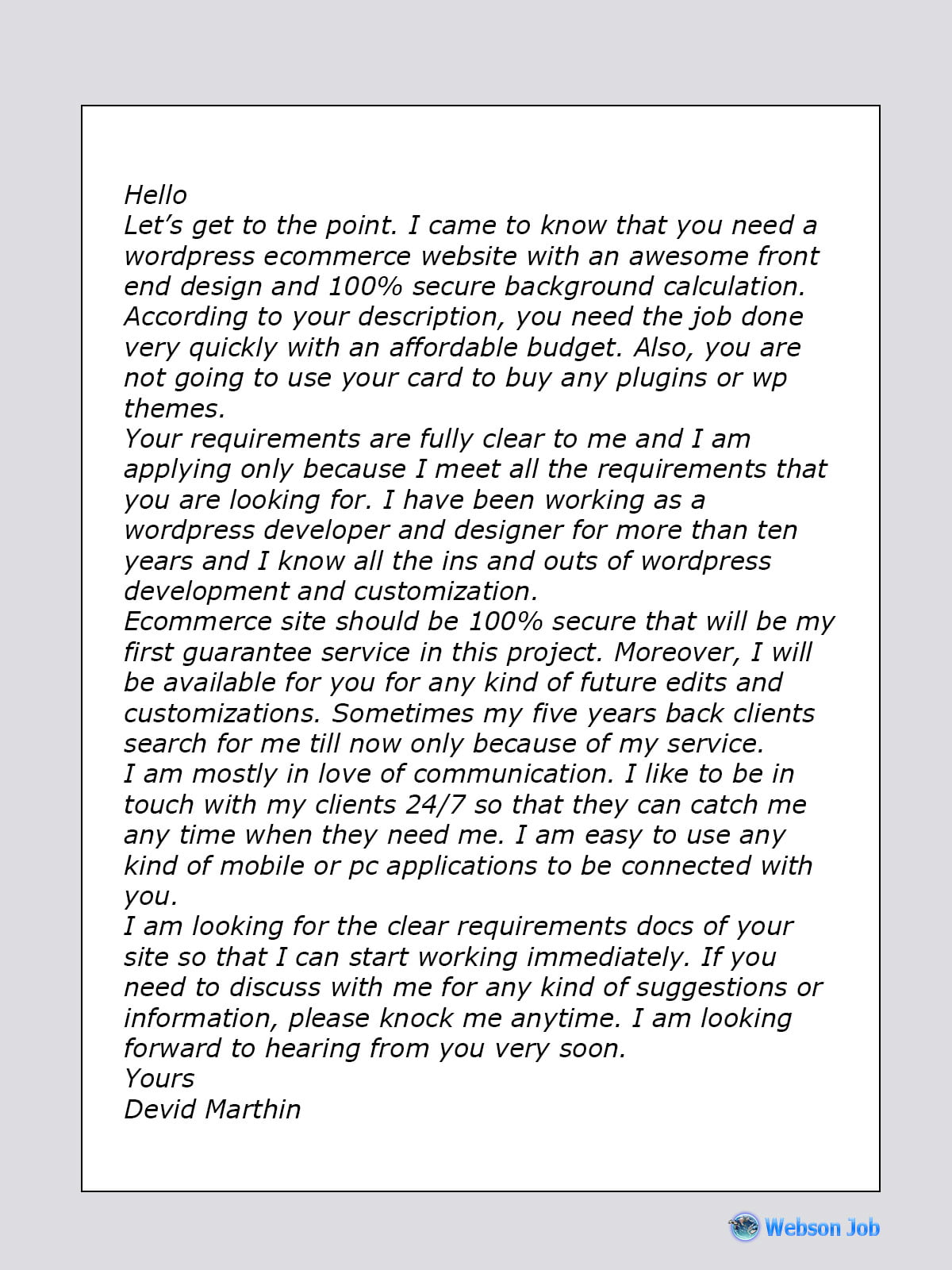 WordPress Cover Letter for Organization
In this case, you must follow some traditional rules and format for your cover letter. Generally, a small, simple but effective cover letter is required in such a phase. So, you must make it brief and go with only the required information just as your client demand like the format below of an organizational jobs' cover letter:
Your Name:
Your Address:
Your Email:
Your Phone:
Employer's Name:
Employer's Address:
Date: 01-01-2022
Dear [Client Name]
1st Para: The job name you are applying for, job source, your interest, etc
2nd Para: Your skills, work experiences, education, and success summary
3rd Para: Your goal in this project, your guarantee, honesty, work process and time schedule
4th Para: Thanks the client, communication Medias, ready to work
Yours Sincerely
[Your Name]
You may interested in: Upwork Screening Question & Answers