Are you looking for the hidden tips to write a killer cover letter? Here you will find your solution with a great sample of an amazing Upwork cover letter for Search Engine Optimization. Let's see: SEO Expert Profile Overview Sample.
It will help you a lot to learn to write a cover letter for SEO in a standard way. But if your intention is only to copy and paste the sample, then please don't waste your time here, you may visit other sites. Because we are here to give you samples and teach you the strategy so that you yourself may be able to write the cover letter as a perfect freelancer. We will provide you with the standard format of an SEO cover letter that may draw your recruiter's attention.
You will as well get all the information and details of the things related to SEO to write a perfect cover letter for SEO. I request you to read it till the end of the article and if you need the Upwork Overview Samples, please follow the link.
About SEO (Seearch Engine Optimization)
Before learning about the tips of writing a cover letter especially for SEO, you must know at first what SEO actually means. There are many new freelancers who have hardly any knowledge about SEO, but they start writing a cover letter for it. It is always unappreciated and they never succeed in their purpose too. So, if you want to be successful with your cover letter for SEO, then let's know some important information about it before we start with the formula of writing a cover letter for SEO.
SEO is an internet marketing strategy. It is designed in such a way that it helps you to boost your info in the search engines so that your site may appear in the first series of a search. You must also know that SEO has become very tough these days. There are two types of SEO – "on page" and "of page". Both of these are equally important for freelancing. So, when you are writing a cover letter for SEO, you must understand which type of SEO your client is looking for on-page or off-page. And according to the types, you should gather some knowledge about it.
Important things to know for "off-page" SEO
Okay, if your client is looking for 'of page" SEO you cannot help knowing the following terms deeply.
Forum Posting
Article bake linking
Quality Link Building
Authority Link Creation
Link Wheel Creation
Forum Posting
Blog Link Creating
Quality Social Book Marketing
Google Panda and
Penguin Friendly Link etc.
Important terms to know for "on page" SEO
On the other hand if your client expects the "on page" SEO for you, then you must focus on the following terms.
Meta Description Optimization
HTML Tags (b, a href, h1, h2 etc)
Link Optimization
Title Optimization
Google analytics install and improvement
Google Search Console
Image Optimization, alt, sizes, title etc.
Research on Google adwords and keyword etc.
Purpose of Working with SEO
Search Engine Optimization is very necessary to make a company more advertised and for higher profit. Your company will be benefited greatly from you if your site can rank so high that it appears first on the first page of the maximum search engine. And thus your company will get a remarkable recognition through you. Thus you may be proved to be an asset to your company. But you must remember that the visibility of your website directly depends upon your ability to help it to be seen. Besides these, your deep knowledge of SEO helps you with job opportunities related to such things. If you wish you be self-employed also using it.
Necessity of a Cover Letter for SEO
Your cover letter always represents the very you. So, when you are writing a cover letter your reader is visualizing you through your speech. It makes a sketch of you to your reader. Your opportunity mostly depends on your cover letter. And for SEO cover letter is very much important, because the job of SEO is related to your speech, your language, and your style of representation. So, your cover letter will determine how much you are suitable for a job with SEO. That is why we are here to help you write a killer cover letter for SEO. Follow our tips and you will be able to write an effective SEO cover letter on your own.
Tips to Write a Killer SEO Cover Letter
Now get ready to write an amazing cover letter for Search Engine Optimization. Here are some tips for you. Follow it and be a grandmaster of writing a cover letter for SEO and attract your reader very easily.
Research your employer: Make a research of your employer and the company and use your data to convince your reader. It will help you understand what your company actually wants from you. Your research will turn your cover letter the way so that it can assure your employer that you are the most suitable person for the job.
Language representation: Use your language in such a way that it focuses on what you can do for the company. Don't focus on what your company can do for you. Explain with your words how you can be an asset to your company, why the company needs exactly you.
Length: Don't make your letter too long. It will damage your style. Rather make a brief and informative strategic cover letter that may draw your reader's attention to your efficiency. Make it simple and appealing to your reader.
Highlight your future tendency: Your past experience is always important to your reader. But what is more important is that what you can do for them in the future. So, highlight your future purpose, interest, and expected work. Make your reader believe how much you are dedicated to your work.
Write your Own: Never copy some others' writing. If your employer gets that your cover letter is a copied item, you are sure to lose the opportunity. So, write your own words. Just follow our tips to improve it.
True Statement: Give all the true information of yours. Never lie in the cover letter. It will hamper your scope of getting the job. Even if your employer gives you the opportunity, you won't be able to fulfill their demand and lose the job in this way. So, apply only if you are really suitable for the post and put all the true information in your cover letter.
Revise and Edit: After finishing writing your cover letter, don't forget to make a revise it. Your rechecking will help you to find the errors in your letter. So, revise the letter, correct the mistakes and improve your words to give it more strength.
Follow these instructions carefully and you will surely be able to write an unbelievable, killer cover letter for Search Engine Optimization. We are providing you with a sample cover letter below which will help you more to furnish your letter in an effective way. If you maintain all these tips you will be greatly benefited and believe me your expected job is only one hand away to touch. Now let's see a sample:
01. SEO Cover Letter Sample for Upwork & Freelancer
Dear Hiring Manager,
Wish you a very good day, sir.
I am here in response to your job posting for a dynamic SEO Analyst. I've carefully gone through every detail of your post. According to your demand and my capabilities, I believe myself to be the most appropriate candidate for the post. I have a great experience of seven years as a successful SEO Analyst. Furthermore, my educational qualification is also related to it as I am a graduate of ICT. I have made a thesis also on the basis of "Search Engine Optimization for business purpose"
I have great knowledge and experience in SEO, Page Promotion on Social Media Sites, Copywriting, Keyword optimization, Troubleshooting, Free classified Websites, Article Writing, Spinning and Submission to Article Directories, YouTube videos Promotion, and such other related job. I have a high ambition to go long as an SEO analyst. I have a great passion for working with these sites as I enjoy it a lot. To add more, I am self-confident, analytical, and persuasive enough to handle clients. I also possess strong presentation skills which is very important for a successful SEO Analyst.
My experience, skill, efficiency, and passion for work will help me to be an asset to your company. I am ready to work 50 hours per week for you and even more if necessary.
Thank you for considering my letter. I will look forward to hearing from you for further process. I am always available on my skype and email.
Sincerely Yours
Your Name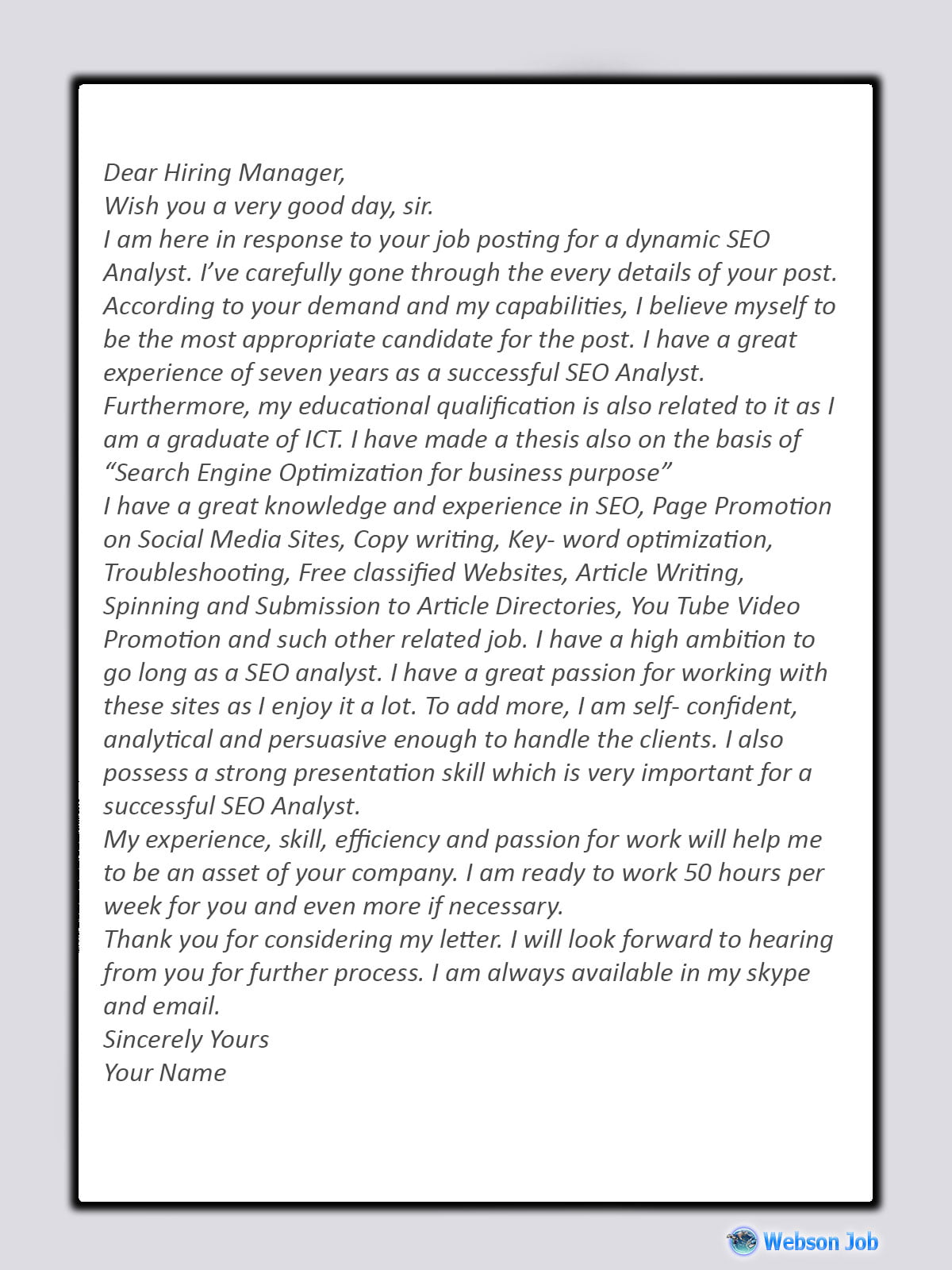 02. SEO Cover Letter Sample for Organization
In this case, you must follow some traditional rules and format for your cover letter. Generally, a small, simple but effective cover letter is required in such a phase. So, you must make it brief and go with only the required information just as your client demand like the format below of an organizational jobs' cover letter:
Your Name:
Your Address:
Your Email:
Your Phone:
Employer's Name:
Employer's Address:
Date: 01-01-2022
Dear [Client Name]
1st Para: The job name you are applying for, job source, your interest, etc
2nd Para: Your skills, work experiences, education, and success summary
3rd Para: Your goal in this project, your guarantee, honesty, work process and time schedule
4th Para: Thanks the client, communication Medias, ready to work
Yours Sincerely
[Your Name]