In the modern era of technology and progress, Mobile devices and their unique applications have created a new type of profession which is known as the Mobile App/ Android App/ iOS developer. Let's see: Android Developer Cover Letter Sample
You will see that this demand is at its peak on various online freelancing companies including the biggest one of them all, Upwork. Today I will provide some upwork profile overview samples for mobile app, android app and ios app. You may also like: Cover Letter Sample.
But no matter how capable you are or how much qualified you are, you will not get a job if you fail to convince your potential client with your profile overview. That is why here we are going to provide you with two different sample profile overviews on Mobile App/ Android App/ iOS developer jobs so that you can learn and write your own fascinating profile overview.
But that is not the end of it, we will also give you other important information like client priorities and common mistakes.So, let's get started!
Client's Priorities
As this type of work is completely based on modern technology, a client would always like to hire someone who has a thorough knowledge of modern mobile devices and their operating systems. The same mobile app can operate differently on different operating systems that are why your client expects you to know the difference between android apps and iOS apps.
A little mistake or wrong command on a code can change the whole purpose of a mobile app that is why transparency and accuracy is a must if you want to impress your client. Punctuality is also required here as this particular job sector is ever changing and one delayed action can cost your client thousands of dollars. Surely don't want to do that, do we?
As clients prefer young and dedicated workers here as this is a job sector which is kind of new and complex, previous working experience or work history is not mandatory here. But if you have experience, then mention it obviously as experienced freelancers are always more welcomed than the newbies.
Common Mistakes and Errors
There are many common mistakes that freelancers commit while writing the overview which should be avoided.
First of all, giving too much personal life information never extends your qualifications, rather it creates a bad impact that you are a big TALKER, not a DOER. I mean honestly, if I need to hire you for fixing bugs of my mobile app, why I should waste my time on reading how much passionate you are about your traveling or cooking! Don't do that.
Secondly, do not provide fake information or attachments as your client will not hire you before checking the authenticity of your credentials.
Thirdly, Do not copy and paste other people's resume as your own. Work of plagiarism is never acceptable in freelancing profession.
Fourthly and lastly, avoid grammatical errors in order to create a positive and eloquent impact on your client.
#Sample 01: Mobile App Developer Profile Overview
Hello, my name is (write down your name here) and I am from (write down your country name here). I have been working as a freelance full stack engineer for more than 2 years now.
I represent an experienced and advanced skill set of iOS and Linux development system. I am also very skilful in creating solutions for Android devices as well. I am a specialist in creating and developing multiple apps and I also know how to monitor them properly.
From running tests to submitting project reports, I can take care of all. I also have a skilful technical team to help me with errors and glitches. I am a quick learner and I can guarantee you that if you hire me, you will have no trouble regarding time or quality.
I am a graduate in technical engineering and I use my educational background to become more efficient in this field.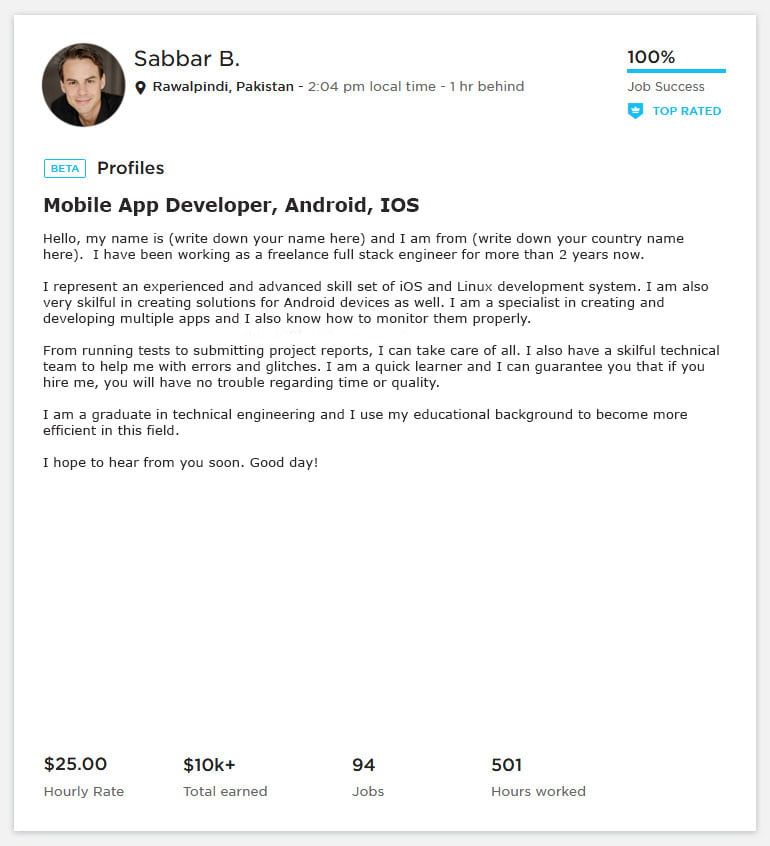 I hope to hear from you soon. Good day!
#Sample 02: Mobile App Developer Profile Overview
Hello there! I am (write down your name) and I am a full stack engineer from (write down your country name). I believe in honesty and transparency. I can assure you that I am not here to cheat you and make easy money.
I am a graduate in Computer Science Engineering and I have taken a professional App Developer training from (write down your institution's name).
Though I am new in this sector of jobs and I have finished only a couple of projects, my clients were 100% satisfied with my performance. I have never in my life, failed to satisfy my client with my qualifications and problem solving methods.
I have developed apps for Apple and Windows. I know how to create new apps for iOS and Android operating systems. In my last project, I have developed several apps about –
Fitness and healthapps;
Dating and Tinder based apps;
Uber based apps for finding service providers;
Travel apps for booking flights and hotels;
Medical healthcare apps for doctors and patients;
Education audio and video apps;
Geo location apps for finding restaurants;
Events based apps;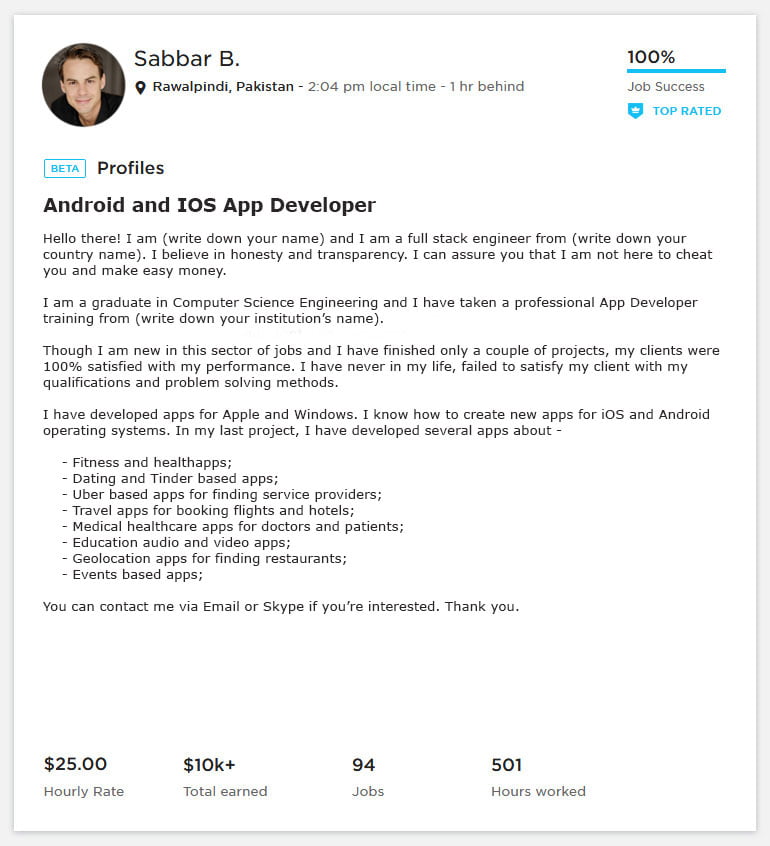 You can contact me via Email or Skype if you're interested. Thank you.
Final Words
Your profile overview should be interesting and unique instead of boring and copied. That's why, we suggest you to follow this template and write your own profile overview. Again, do not copy it completely unless you want to loose your reputation as a freelancer.
You can add other information like your work history or your amateur engineering experience. It's never constant what you should provide and what you should not but it's better to choose relative information regarding your line of work.